---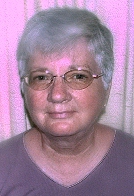 Edith's Straldja Webpage
Mailing Address:
Envelopes: Edith Sloan, COU "P. K. Yavorov," : 17A, G. Stantchev Street, Straldja 8680, BULGARIA
Packages: Edith Sloan, Peace Corps, P.O. Box 259, Sophia 1000, BULGARIA
Telephone: Home: (from States) 011-359-467-24-46
Work: 04761/ 23 98
NEW!
Links
Some Photos of the Pool at the School.
Photos from Halloween at the School.
About Me
I am a Peace Corps volunteer in Bulgaria. I teach English at the local school. I live with husband Rel in a "blok" (apartment building) not far from the center of town.
Below: A picture of me in traditional Bulgarian costume. Click on the photo for a page of photos at the Pensioners' Club in Straldja!